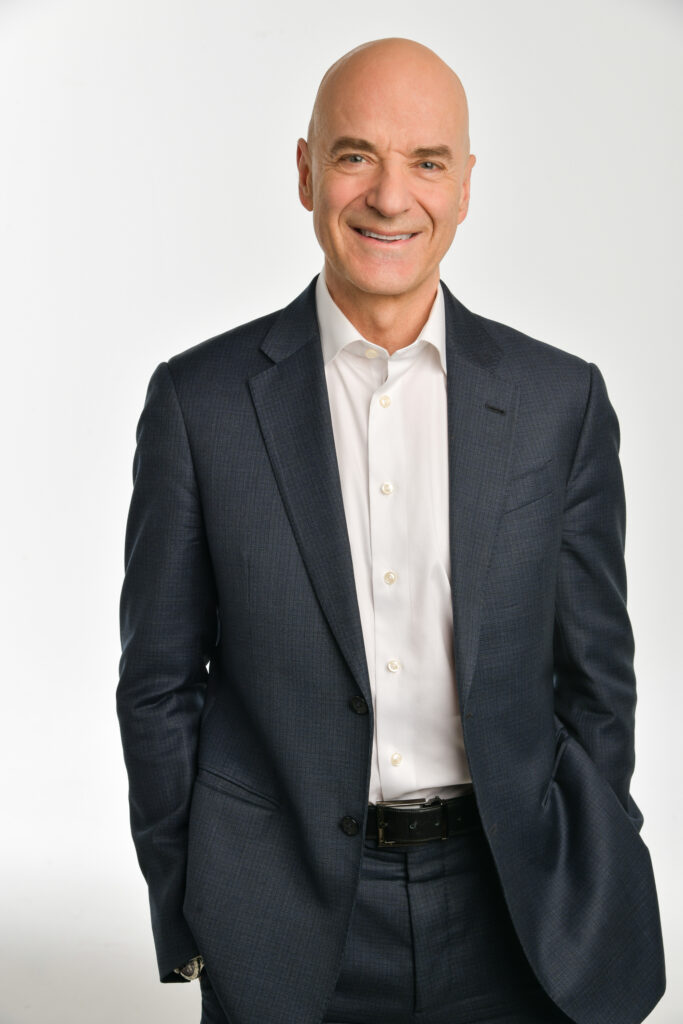 Dr. George Hruza, son of a holocaust survivor, arrived to New York at age 14 from socialist totalitarian Czechoslovakia. He is a physician specializing in dermatology and Mohs micrographic surgery in St. Louis, Missouri. He has taken care of tens of thousands of patients with difficult-to-treat skin cancers from the St. Louis region and as far away as Australia. He has taught dermatologic surgery to many residents, fellows and dermatologists on five continents. He has advocated for patients with regulators and legislators at the federal and Missouri state levels for more than two decades and during his presidencies of the American Academy of Dermatology/Association and Missouri State Medical Association.
Dr. George Hruza was born in Prague, Czechoslovakia April 26, 1956. Both his maternal grandparents and four great grandparents were gassed at Auschwitz, and his mother, Judita Ilkovics Hruza, was part of a forced march to a labor camp in Koszeg, a Hungarian town on the Austrian border and ultimately to Mauthausen and Günskirchen concentration camps in Austria. She gives accounts that she witnessed German soldiers massacre the five hundred fellow prisoners with whom she was marching. Judita was one of 200 who survived. Eventually, Judita would reunite with her brother, Denes Ilkovics, and discover that they had lost nine of their beloved family members. When George's father Zdenek was 17, he joined the underground resistance and fought in the Prague uprising against the Germans in May 1945. After meeting in medical school, Judita and Zdenek married in 1951. While in Prague Judita had two children, George and Eva.
In 1948, the Soviet Union imposed communism in Czechoslovakia and Judita and Zdenek feared for their children and the impact of living under a communist totalitarian dictatorship with government organized terror, fear, indoctrination, discrimination, censorship and privation. Judita and Zdenek were considering defection, but authorities would not issue permits allowing all members of a family to leave together. An opportunity arose when Zdenek received a one-year visiting professorship at New York University School of Medicine. While he was in the United States, they planned an escape for the entire family through coded messages with the codeword "Arapaho" for the planned escape after the Arapaho National Forest in Colorado.
Judita took their children on the long journey from Czechoslovakia through Hungary, Yugoslavia, Austria, West Germany, Denmark and, finally, to Sweden. George and the rest of his family arrived in Stockholm on December 31, 1966.
Stockholm was another adjustment for the Hruza family. They learned Swedish and began acclimating to life in Sweden. Judita worked at a pediatric hospital and Eva and George attended school in Stockholm. Meanwhile, George's father, Zdenek, worked in New York awaiting his family's immigration to the United States.
The Hruzas were finally reunited in New York City, NY in 1970 when George was 14 years old. Within 6 months of arriving while learning his third language, English, George was accepted into Stuyvesant High School, a highly selective math and science public school in Manhattan.
Subsequently, George and Eva graduated from New York University and pursued careers in medicine. Ultimately, Drs. Judita and Zdenek Hruza settled in St. Louis, MO. Judita spoke throughout the St. Louis area at schools, churches and at the Saint Louis Kaplan Feldman Holocaust Museum and Learning Center up to one day before succumbing to a stroke.
Dr. George Hruza received his medical degree from New York University at the top of his class and is a member of Phi Beta Kappa and Alpha Omega Alpha Honorary Societies. He completed his dermatology residency at New York University Medical Center followed by a laser surgery fellowship at Harvard Medical School and a Mohs and dermatologic surgery fellowship at the University of Wisconsin-Madison under the tutelage of Dr. Fred Mohs. Later, he completed his MBA from Olin School of Business, Washington University in Saint Louis, MO. Dr. Hruza has dedicated his career to taking care of patients with difficult to treat skin cancers and has treated tens of thousands of patients from the St. Louis Metropolitan Region and from as far away as Australia and the Middle East. Dr. Hruza is currently an Adjunct Professor of Dermatology and Otolaryngology at St. Louis University. He is the Medical Director of Laser & Dermatologic Surgery Center and Chesterfield Ambulatory Surgery Center in a 20,000 square foot building in Chesterfield, MO that he had built in 2009 to provide optimal patient care. He has been on the Best Doctors and Top Doctors lists for more than two decades. He has been a supporter of the Jewish Federation of St. Louis Maimonides Society and Washington University Eliot Society for many years. Before his current position he was an associate professor of dermatology, surgery and otolaryngology and director of dermatologic surgery training at Washington University in St. Louis. He has trained 21 Mohs surgery fellows and numerous dermatology residents in dermatologic surgery. He has contributed more than 180 publications to the medical literature, including four text books on laser surgery, and has lectured on five continents and at over 300 meetings about laser surgery, Mohs micrographic surgery, skin cancer, and skin surgery.
Boards & Professional Memberships
Dr. Hruza has served on multiple medical journal editorial boards including Archives of Dermatology, Journal of Cosmetic and Laser Therapy, Lasers in Surgery and Medicine, Archives of Facial Plastic Surgery, Journal Watch for Dermatology,  and The Journal of Drugs in Dermatology. He currently serves as Assistant Editor of Dermatologic Surgery and on the Editorial Board for the Journal of the American Academy of Dermatology. He has served on the Board of Directors of the American Academy of Dermatology, American College of Mohs Surgery, American Society for Dermatologic Surgery, Association of Academic Dermatologic Surgeons, Missouri State Medical Association and St. Louis Metropolitan Medical Society and currently serves on the Board of Directors of United Skin Specialists and American Society for Lasers in Medicine and Surgery as Advocacy Director. Dr. Hruza is a Diplomate of the American Board of Dermatology and Micrographic Dermatologic Surgery. He is Past President of the St. Louis Metropolitan Medical Society, American Society for Lasers in Medicine and Surgery, American Society for Dermatologic Surgery, American Academy of Dermatology and Missouri State Medical Association.
In 2014, United Healthcare Medicare Advantage, the largest Medicare Advantage plan in Missouri, dropped more than one half of dermatologists from their panel in the middle of the term; meaning that many elderly patients lost access to their dermatologists that had taken care of them, often for decades. Dr. Hruza mobilized the media to shine a light on UHC's behavior, and got help from patients who wrote letters to Congress that he brought to the Missouri Congressional Delegation in Washington, DC. As part of research on this issue, he found out that there was a 50% error rate in UHC's physician directory in the St. Louis area, which was confirmed by a study of national network directory error rates. These efforts resulted in federal legislation and CMS (Medicare) regulations to require accurate and up-to-date network directories that have sufficient physicians in all specialties for patients to be able to access. This which then led to the reinstatement of a number of the dermatologists that were dropped from the plan and many patients regained access to their dermatologists of choice. Dr. Hruza was recognized for his efforts by the St. Louis Metropolitan Medical Society with a President's Award. Dr. Hruza has been to Washington DC more than 50 times since 2001 to advocate for patients with Members of Congress, Senators, and regulators (FDA, CMS, USP) as well as testifying at the legislature in Jefferson City and being physician of the day to assist legislators and their staff with medical issues they may experience while at the Capitol. He is former Chair of SkinPAC Board of Advisors, a federal PAC supporting candidates who support patient-oriented legislation, to its best year ever in 2021 raising its ranking to the 4th largest medical specialty PAC. He is the recipient of the American Academy of Dermatology Association's 2022 Advocate of the year award.
Personal Life & Recognitions
Dr. Hruza has lived for three decades in Saint Louis County, MO with his wife Dr. Carrie Hruza, optometrist, and their Afghan Hound named Skye. The Hruzas blended family includes three daughters and one son who has disabilities. They have attended Forsyth, Crossroads, St. Gerard Majella, Visitation, Ladue Horton Watkins and MICDS Schools.